Good afternoon, as every week we are here to present you with a great opportunity. Today we want to talk to you about a particular and very interesting machine in the world of packaging: it is a vertical intermittent cartoner of the Italian giant IMA, model Vertima. Read our article now to discover all the details of this very special machine!
Characteristics of a vertical cartoner
In a previous article we explained the differences between a horizontal and a vertical cartoner, and the considerations to be made when choosing between a horizontal and a vertical machine. The machine we are going to talk about today is a vertical cartoning machine, but a very special one, as it does not have the same workflow as a traditional machine and is not a "stand-alone" machine. IMA's Vertima model is very popular in the cosmetics sector and is considered a totally innovative model, as it is a machine designed to work in-line.
Let's review the workflow of a classic vertical cartoning machine: the carton is picked up from the carton magazine and automatically opened by the machine, the leaflet (if present) is inserted, the operator manually inserts the product and the carton is closed and guided to the machine exit. The cycle makes an almost complete loop around the machine.
The Vertima, on the other hand, is designed to work in-line and works as follows: products are loaded onto a conveyor (obviously they must be stable products, which can travel at high speed on a belt), a pick-and-place (or robot) automatically picks up the products from this conveyor and places them in the already formed and opened cartons, the cartons are closed and continue to run on the conveyor in a linear way (and not rotary like a classic vertical cartoner) towards the next machine, which could be a labeller for cartons or a case packer for example.
This machine is used by customers who need to put into the cartons the products vertically (because it would be difficult to put them into the cartons horizontally), but who at the same time need to work in-line to achieve high speeds.
Technical details of the IMA Vertima
The IMA Vertima is a vertical intermittent motion cartoner with a cantilevered design, with simple changeover without the need for tools, and allows all parts of the machine to be cleaned quickly.
Carton dimensions :
Minimum A = 20 mm – B = 24 mm – C = 40 mm
Maximum A = 120 mm – B = 100 mm – C = 100 mm
Max. A+B = 200 mm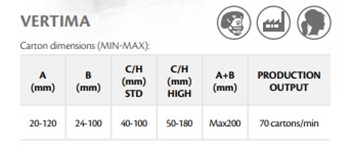 Speed: 70 cartons/minute.
This machine worked in a large pharmaceutical multinational company, it is in excellent condition as you can appreciate from the photos and has always been regularly maintained. We invite you to come and see it, please contact our packaging manager Mrs Héloïse Verona on the following number: 00386 30 342 560 or 0039 02 80 888 015 to get more details about this machine, a quote or to arrange a visit to see it. You can also contact us by clicking on the button below.
If you are looking for a traditional vertical cartoning machine, click on the button below: