Today we are talking about a very interesting machine and very much appreciated by our customers.
We have the honour to show you a live tooling lathe with y axes and automatic bar loader, the lathe we are talking about is a Mori Seiki NL2500 SY 700 which is sold complete with TOP Automation XF 365 bar loader and with an enormously valuable tool kit.
Machine sold!
The particularity that makes this lathe much appreciated not only among the Mori lovers is that it comes from the fortunate NL series of the Japanese house, machines built entirely in Japan. The structure of this lathe is entirely made in cast iron, this greatly emphasises its stability and precision, making the Mori Seiki NL 2500 lathe the reference point among all the lathes belonging to the same category.
Technical details of this Mori Seiki NL2500SY 700
Year of construction 2004
Diameter on the bench mm 923.8,
Diameter on cross rail mm 755,
Distance between the spindles mm 961,
Max. Turning diameter mm 356,
Standard turning diameter mm 275,
Turning length mm 705,
Bar capacity 80 mm,
X mm 260,
Y mm -50, +50,
Z- mm 795,
Spindle 2 axis B stroke mm 734,
Main spindle motor 18.5 / 15KW (4000min-1),
Counter-spindle motor 11 / 7.5KW (6000min-1)
Spindle 1: Speed min -1 4000,
2 ranges,
Spindle through diameter mm 91
Indexing Angle Min. 0.001,
Spindle 2: Speed min -1 6000,
1 range,
Through hole diameter mm 43,
Minimum indexing angle 0.001,
Turret 12 stations,
Live tools, speed min -1 6000,
CNC MSX 850,
chip conveyor,
Parts catcher,
TOP AUTOMAZIONI XF 365 (year 2009)
High pressure pump,
tools.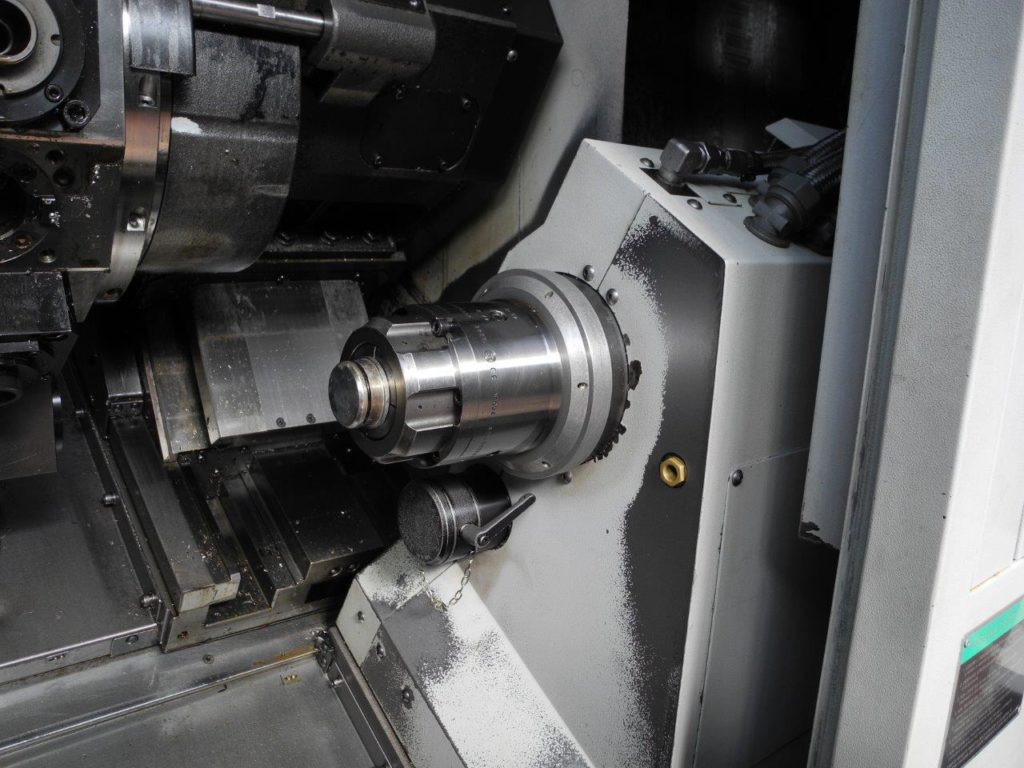 The machine has just been checked in all its parts and it is possible to test it connected under power.
If you are interested in having further information, as well as the price or if you are interested in organising a visit to inspect the machine, do not hesitate to contact us.
In our online catalogue you will find a wide selection of used cnc lathes with barfeeder and many other used machine tools.