Welcome back to our "machines of the month" section, dedicated to machinery bargains not to be missed. Today we would like to present a processing machine in our catalogue of used packaging machines. This 2006 Sejong MRC 37D, with 37 stations, is still in production by our customer. Contact us to arrange a visit to come and see it.
Sejong, Korean pharmaceutical machinery manufacturer
With more than 3,000 machines sold in 80 countries around the world and 30 years of experience in the construction of processing and primary packaging machinery, Sejong, with its full name Sejong Pharmatech, is today among the market leaders focusing on cutting-edge technology. In order to meet the stringent rules and regulations that pharmaceutical companies impose, Sejong regularly undergoes several inspections by specialised agencies to offer its customers GMP-compliant machines worldwide.
Among the best-selling machines are the tablet presses and capsules filling machines that are appreciated worldwide for their precision and robustness.
Technical Specifications
Let's find out the technical details of this Sejong MRC 37D.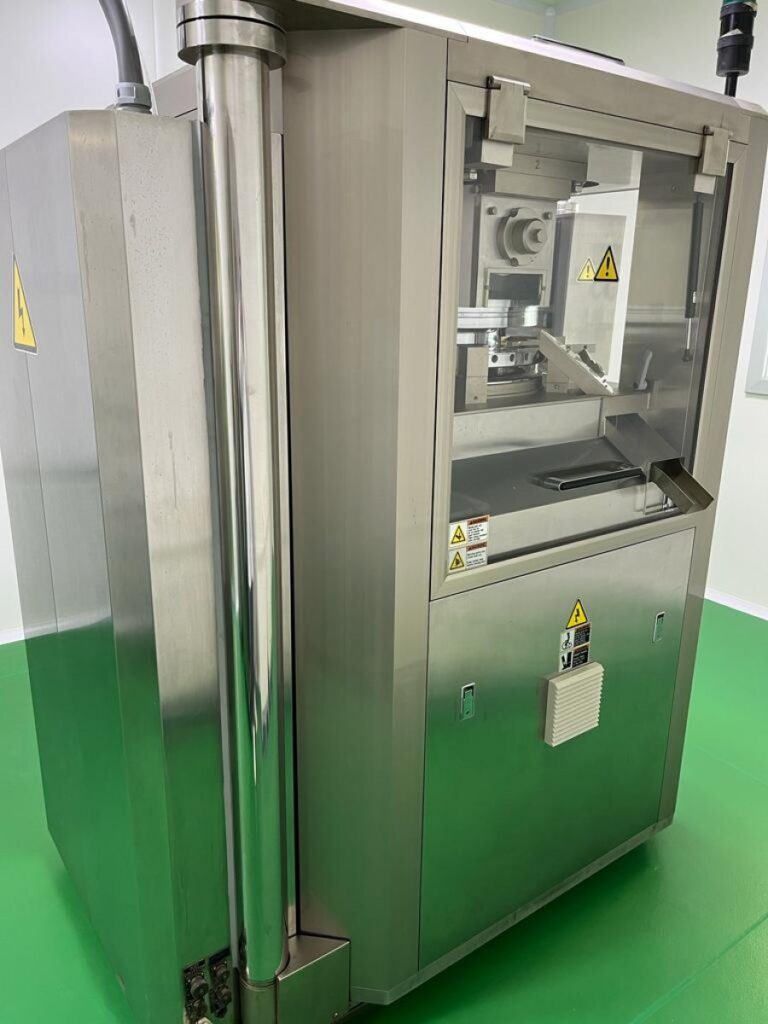 YOM: 2006
Number of tablets: 266.400 /h
Number of press stations: 37
maximum pre-pressure force: 3 tonnes
maximum main pressure force: 10 tonnes
Maximum tablet diameter: 25 mm
Maximum tablet thickness: 8.5 mm
maximum filling depth: 18 mm
Punch type: Euro D
dimensions of upper punch
body: diameter 25.35 mm
head: diameter 31.6 mm
length: 133.6 mm
lower punch size
diameter 25.35 mm
diameter: 31.6 mm
length: 133.6 mm
Machine dimensions
Length: 1150 mm
Width: 1250 mm
Height: 2100 mm
Weight: 4000 kg
The machine was purchased in 2016 as semi-new as it had only been used as a display machine for a few trade fairs. It has since been regularly maintained (maintenance performed in 2018 and 2021). It is possible to see the machine still in production. It is sold with several practically new punches and dies.