Good morning, we are back to tell you about a new hot deal directly from the world of pharmaceutical packaging. This machine will be of particular interest to those working with solid products, i.e. capsules or tablets. It is a blister machine of the Italian brand O.M.A.R, model BF 100 from the year 2006. It is visible under power and in working condition. Our customer decided to replace it with a bigger one in order to increase its production capacity. It is sold with many size parts and with the chiller unit. Find out all the technical details of this machine with us.

Omar, an italian blister machines manufacturer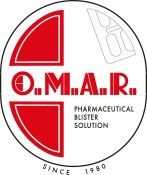 O.M.A.R, an Italian company based in Milan, was founded in the 1980s as a manufacturer of automatic and semi-automatic blister packaging machines for small and medium production in the pharmaceutical sector. Over the years the company has grown, gradually increasing its production capacity and its commercial and technical knowledge. Today OMAR is a solid company that designs, builds and commercializes blister machines, size parts and provides assistance, training and all the additional services.
The products that can be blistered are many and OMAR offers a solution for each type of product: tablets, capsules, ampoules, syringes, carpules, dental devices,… All of their blister / thermoforming machines can process all types of materials, such as PVC, Alu, PVDC, PET-G, ACLAR, PP, POLIBAR. Sometimes companies also need to recover products already packed in blisters, OMAR offers several machines to do this, both automatically and semi-automatically and both when all products are the same in the blister and when they are different. OMAR is the blister machine specialist and all machines are designed and built in Italy.

Technical specifications of the Omar BF 100 blister machine

Take a look at the technical details of this OMAR BF 100 blister machine for packing tablets or capsules in blisters.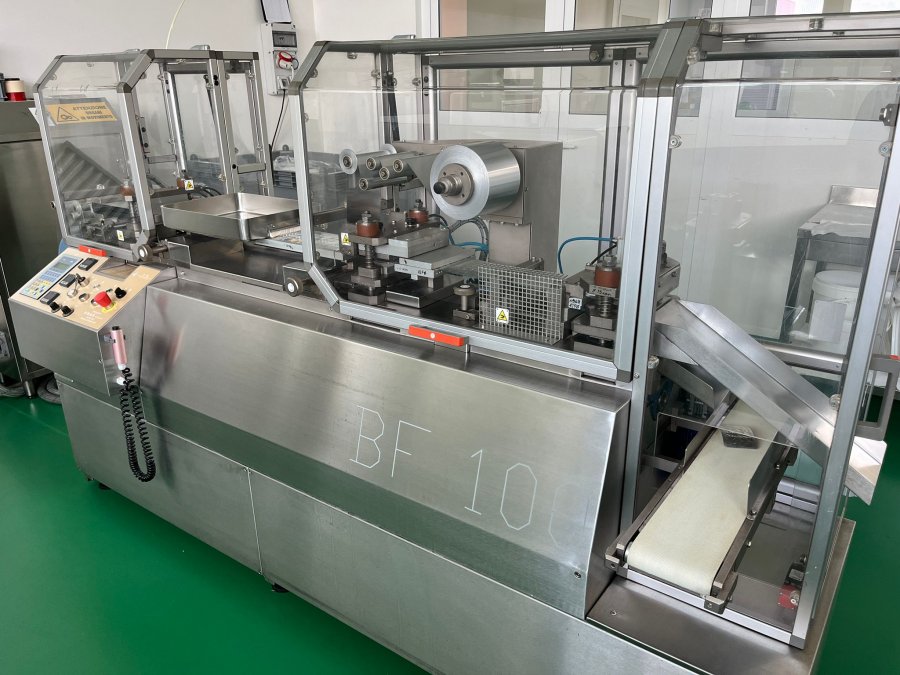 Year: 2006
Mechanical cycles: 32 /min
Pitch: 156 mm
Band width: 135 mm
Forming depth: 13 mm
Forming material: PVC / ALU
Coding unit
Mould width: 156 mm
Mould length: blister measure + 10 mm
Max. roll band moulding material: 135 mm
Max. reel width aluminium: 130 mm
Max. outer diameter plastic roll: 250 mm
Max. outer diameter aluminium coil: 170 mm
Coil internal diameter plastic material: 70 mm
Coil inside diameter aluminium: 70 mm
Depth of blister plastic material: 13 mm
Min. speed: 12 stops/min
Max. speed: 32 strokes/min
This machine is particularly suitable for pharmaceutical or nutraceutical companies for medium production. It is sold with different formats (for details, contact us) and the chiller. It has always been serviced regularly.
If you are interested in this machine, please contact our Packaging Manager Héloïse Verona on the following number: 00386 30 342 560 (also Whatsapp) or by clicking on the button below. You can ask her all the questions you want, request a quotation and/or arrange a visit to come and see it on site still connected.