Good morning and welcome back to all CNC machines lovers. Today we have the pleasure of introducing you to an incredible new entry, an exceptional machine and flagship of the Japanese manufacturer Okuma. Today we would like to introduce to you the Okuma cnc multitasking lathe Multus series model U4000 1SW.
A few facts about the machine
Built in 2016, the machine was designated by the parent company as an exhibition model for trade fairs in Italy during 2017. It has been installed for the first time at the current user place (sole owner) during 2018. From 2018 to date the machine has worked very little, about 2700 hours. The steady rest (full axe) supplied with the machine is still packed in its original packaging and it has never been used.
Technical details and machine composition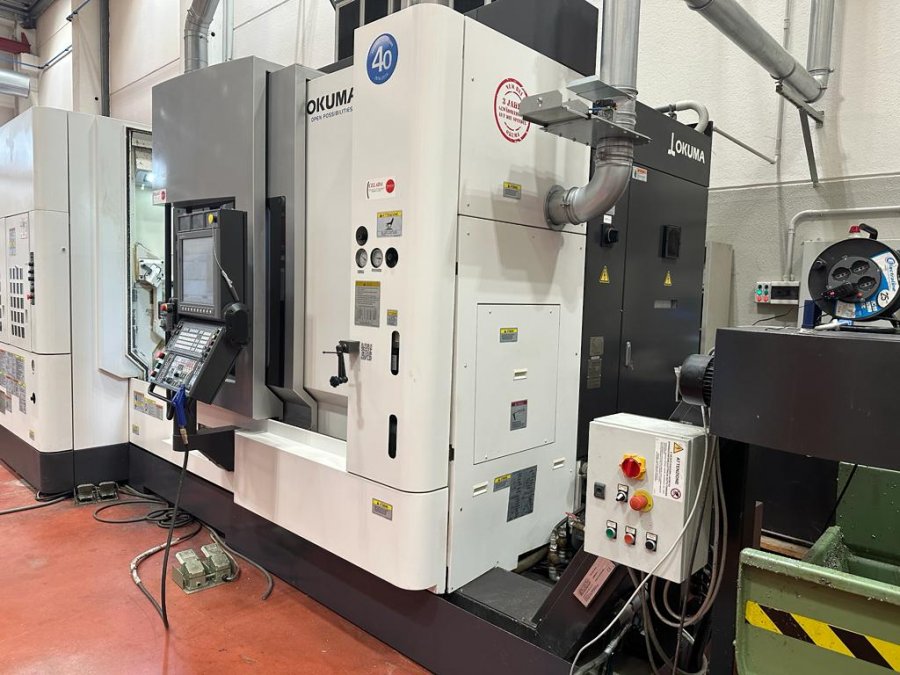 OSP P3008 control (19" adjustable OSP SUITE video)
upper turret, B-axis and subspindle
both spindles have the following features
spindle nose BIG BORE A2-11
spindle power 32 Kw
3000 rpm
bar working diameter 112 mm
C-axis with DD encoder for high positioning accuracy
max. turning diameter 650 mm
spindle noses distance 1876 mm
high pressure 20 BAR, 20 LT/min
Y-axis travel 300 mm
B-axis index 0.001, I 1 SK63, 22 kW, 12,000 rpm
ATC 80 positions
Air blow over spindle cleaning
CAS anti-collision control
Structure thermal drift control (TAS-C) and spindle line (TAS-S)
Renishaw TSR2 tool breakage laser probe complete with accessories and Okuma interface
API Library 2 (ON STATUS)
One touch IGF Advance M-D Kit instead of standard 3D-M-E Kit
Helical turning function allowing Y-Z interpolating turning with U-axis style boring bar
Software with value table to create automatic hobbing programme
Skiving. Also includes hobbing option
Continuous B-axis, rotation mechanics with roller gear cam
5-axis continuous software kit (X-Y-Z-B-C) for use with B-axis-in
continuous.
– Includes software for high-speed machining Super Nurbs
– RTCP vector control including automatic angular position control
tool (main spindle only)
– 3D co-ordinate change
– DNC-DT data transmission software
Helical interpolation with B-axis
Complete provision for K4 hydraulic steady rest (programmable management
as continuous axis to follow) for drill length version 1500/2000
and upper turret only (15)
Hydraulically controlled self-centring steady rest SLU-X-Z
Size 4 (030 to 0245)
– Centralised lubrication
– Hermetically sealed body
– Internal safety valve
– Piston stroke control (without proximity)
Chip conveyor arrangement side discharge d.p. 1500
MT10 swarf conveyor
MULTIPLE TOOL MACHINING FUNCTION
Used with external turning tool holders with 2,4,8 positions, it allows you to
save time on tool change.
The tool for changing rotates on its axis.
Workpiece measuring device "IN-PROCESS" complete with management software with Renishaw RMP60 probe
Z-axis datum shift after probing with electronic probe on main spindle mod.0 and W
Z-axis datum shift after probing with electronic probe on counter spindle mod. W
C-axis datum shift after probing with electronic probe on main spindle mod. C and W
C-axis datum shift after probing with electronic probe on counter spindle for mod. W
If you would like to come and see the machine or receive a quotation, please do not hesitate to contact our sales manager Mr. Diego Sforza by phone on +39 327 53 69 514 or by email at info@makinate.com