Milling, an alternative solution to traditional processes
The milling techniques have constantly evolved over time and today turn out to be a processing method used for a wide range of applications. In addition to traditional applications, milling today is a more than valid alternative for producing processes that were once exclusively produced by turning, drilling or tapping. It is very important for the choice of the milling method to select the right machine. Facing / milling or slot milling can be performed on 3-axis machines, while 4 or 5-axis machines are required for milling 3D profiles.
Today, with the technological development, turning centers often allow to perform milling operations thanks to rotating and motorized tools, while at the same time machining centers can also be equipped with a turning function. These machines guarantee, without a doubt, greater flexibility, but stability compared to a traditional milling machine can be a problem.
Milling machines
In the past, all the machines could be simply divided into four categories: horizontal and vertical, by turning or milling. Today, as we have just seen, the machines are developed in all directions. Milling machines are machine tools for chip removal, characterized by the use of rotating tools with multiple cutting edges, called precisely drills. They are designed to work flat, cylindrical, conical, helical surfaces and grooves.
The working motion of the tool is always a rotation movement around its own axis, while the piece has a combined translation or rotation motion. Most milling machines have only one spindle, but there are also multi-spindle types. Milling machines with a single spindle can also be equipped with special milling shafts, allowing the simultaneous work of several drills engaged on different surfaces.
Types of milling machines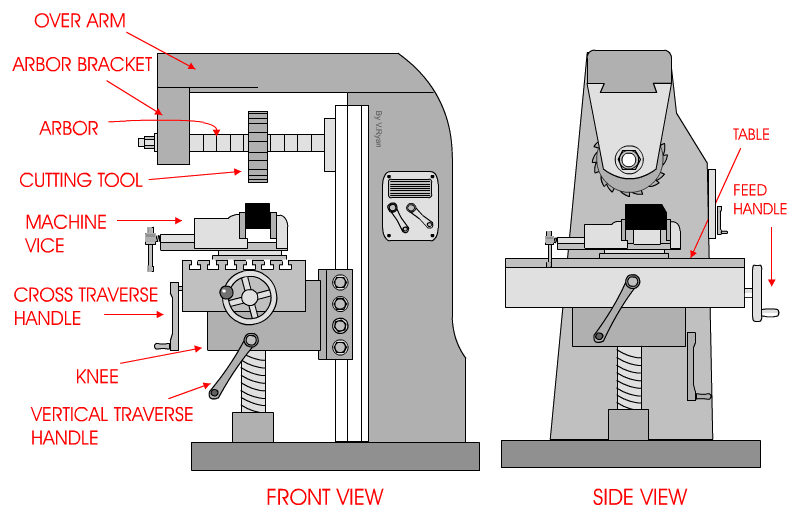 The traditional distinction of milling machines sees a classification between horizontal milling machines, vertical milling machines, special milling machines, automatic milling machines and universal milling machines. Let's see them briefly one by one.
Horizontal milling machines
So called because they have an horizontal spindle axis. The workpiece table, placed under the spindle, is equipped with a transverse and vertical feeding motion. Often in horizontal milling machines, all the motions are controlled by a single electric motor, by means of a complex transmission system.
Vertical milling machines
These machines, on the other hand, have a vertically positioned spindle. The workpiece table is equipped with feed motion and runs on two perpendicular slides. The spindle head is in turn slidable on vertical guides which allow approaching movements.
Special milling machines
As the name suggests, they are used for particular processes, such as the realization of keys, carvings, grooves and cavities in general. The milling head is mounted on a trolley driven by a connecting rod-crank system allowing longitudinal movement with a straight motion.
Universal milling machines
Universal milling machines are those that combine the functions of horizontal and vertical milling machines. In universal milling machines the workpiece table can also be rotary.
Automatic CNC milling machines
These are used for processing very complex profiles or surfaces. The automatic milling machines are equipped with a probe device that keeps always adherent to the model (copying cutters), guiding the milling head in its movements.
---
Did you like this article? Keep on following us on our section "How it works", we often publish technical articles about machines or about specific components.
To discover our available used milling machines, don't hesitate to check our on-line catalogue of used machines, or if you prefer, contact us if you need our help! If you are interested in selling your used milling machine, publish it immediately for free in our catalogue!