We have already talked about sheet metal processes and about presses more in general, but until now we have not yet illustrated the composition and operation of an extremely important tool for this type of machining: the molds for the presses, what are they and how do they work? Let's see it together.
Components of the moulds for the presses
The molds for the presses are made up of three fundamental elements: punch, die and blank-holder.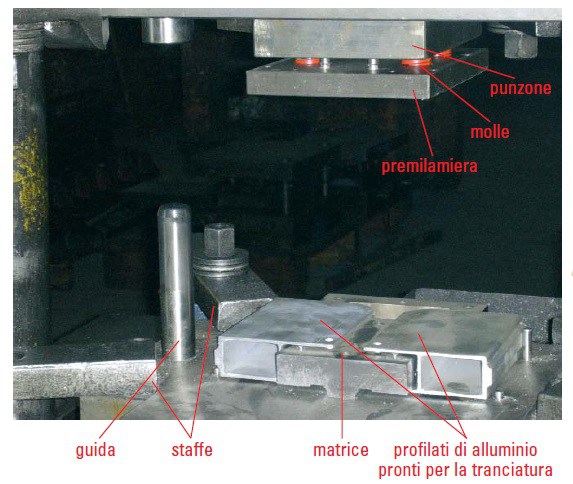 Punches
The punch is the moving part of the mold and can be of different shapes depending on the work that needs to be carried out. Usually it is fixed on the upper part of the press, with its movement it guarantees, it depends on the cases, the shearing or the forming of the sheet.
Punches used in the molds should not be confused with those tools, also called punches, which are used in the mold of inscriptions or logos, consisting of a small rod of hard steel with truncated pyramid ends, on the upper surface of which is engraved a code, a number or a letter.
Dies (Matrix)
If the punch is the movable part of the mold, the die represents the fixed part, usually located on the press table. The task of the die is to contain the cut in the blanking operations and to deform the sheet in the forming operations.
The die when used for shearing or punching operations must be complete with a device for unloading the cut material. This discharge essentially consists of an extension of the hollow part from which the material is expelled. In the complex molds, the blank holder is also placed in the die.
Blank holder
The blank holder has the function of blocking the sheet metal against the die, avoiding its dragging by the punch in the case of shearing, or allowing it to be dragged but not wrinkled, in the case of drawing.
Normally the blank holder is made, in the case of simple molds, with oil resistant rubbers, or is made of steel plates fixed with springs of adequate rigidity for the most complex molds.
The materials used in the construction of the molds must be characterized by high hardness, toughness and wear resistance.
All the parts that come into contact with the sheet metal are hardened and grinded.
Do not hesitate to consult our online catalogue if you are interested in buying used sheet metal machines. Contact us if you are interested in selling your used machinery or you can easily publish your machine for free on our online catalogue.