UCIMA association, which we had already talked about in our article dedicated to Ipack-Ima Exhibition in Milan, has published the results about packaging machinery sector few days ago. Italian packaging machinery manufacturers confirm themselves world leaders in 2017. Italy not only confirms its place, but also records a net increase in turnover of almost 9% compared to 2016 reaching 7 billion euros. Also exports grow by 7.5% reaching 5.7 billion euros.
The packaging sector in Italy, Europe and rest of the World
The packaging sector is one of the most dynamic sectors in Italy: in 2017 recorded a positive trade balance with a growth of 7.1%, with an increasing export rate, the sector employs more than 30.000 people in Italy. In addition, 1 above 5 packaging machines sold worldwide is "Made in Italy"! At the second place on the podium there is Germany which also records excellent results.
The European Union represents 37.4% of the total worldwide turnover and therefore remains in first place. Asia follows with 21.8% of turnover. In third place we find North America with 11.6%. The Center and South America finish with 10.4%, non-EU countries with 10.1% and Africa and Oceania with 8.6%.
Sectors of activity and types of machines
The food sector accounts for 30.25% of turnover, followed by the beverage sector with 29.9%. Both these sectors are mainly destined to foreign markets (exports represent 74.4% for the food sector, and 83% for the beverage sector). The tobacco and tissue sector followed with 20% and the pharmaceutical sector with 16%. The cosmetics and chemical sectors end the ranking.
The ranking for types of machines instead is presented as follows: in the first place we find the filling and dosing machines with 24.1%, followed by the Form Fill Seal (FFS) and thermoforming machines with 19.8%, the palletizers and depalletizers with the 12 , 9%, the horizontal cartoning machines / vertical cartoning machines and case packers with 9.9%, the wrapping machines with 8.4%, the labelling machines with 6.5% … The rest of the classification groups the closing machines, the machines control systems (such as inspection machines for example), freeze-dryers and sterilizers, and end-packaging machines destined for transport.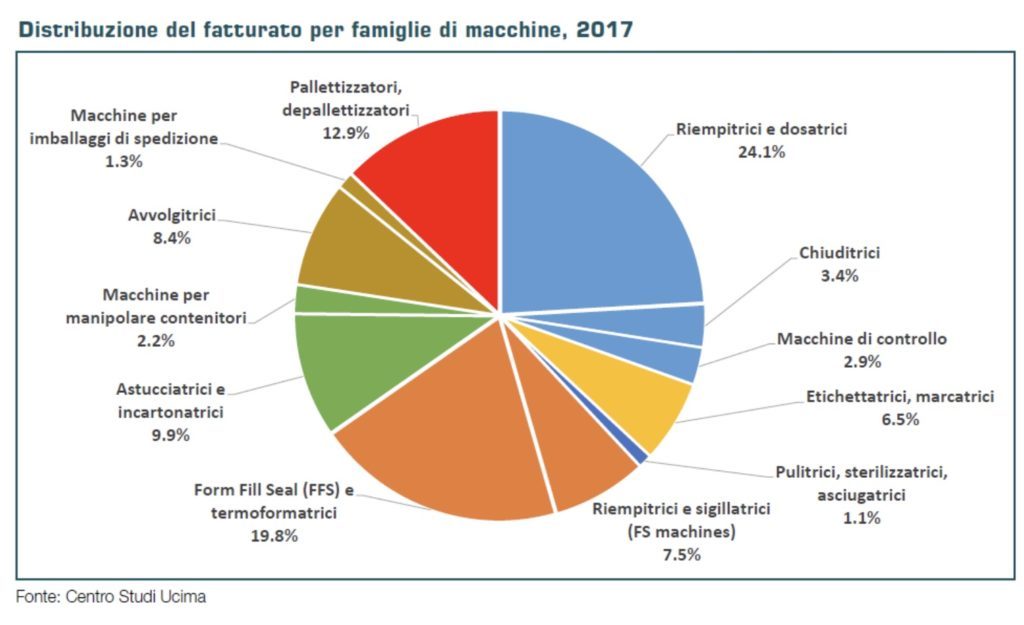 According to the statistics, this positive trend should be confirmed for Italy also for 2018. There is also an increase of 6% for Asia and of 6.5% for Africa for the period 2018-2020.