Welcome back to our blog in our section dedicated to the interesting machines of the month both in the world of packaging and in the world of metalworking. Today we want to talk about a blister machine from brand IMA, model TR 130, year 2000. Machine of excellent quality, historical model among the best-selling of the Italian manufacturer IMA, it is sold today in working conditions and will meet the needs of any customer in the pharmaceutical, nutraceutical or cosmetic sector. Let's discover together the technical details of this machine.
Machine description
The blister machine IMA TR 130 (see all the used blister machines available in our catalogue by clicking here) was built to offer users a solution to pack tablets, capsules of any type or shape and any size in blisters. The forming material can be PVC, PVDC, PE, laminated PVC, aluminium, PP, ACLAR. The cover material can be aluminium or PP. The product to be filled is not contaminated as there is a clear separation between the filling area and the surrounding mechanical parts.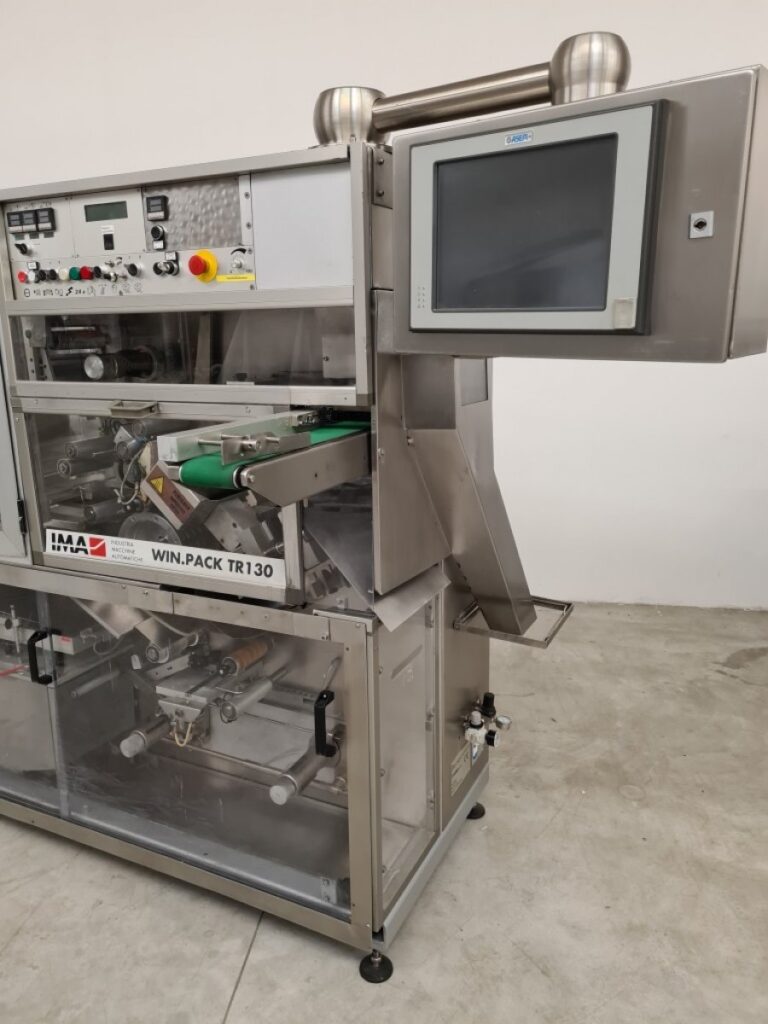 The machine is designed to allow easy cleaning of all parts and stations.
It is also equipped with a very simple microprocessor that allows the operator to carry out the desired operations with great ease.
The machine is small in size to take up as little space as possible and complies with all current GMP standards.
Machine workflow
The thermoforming strip is formed in horizontal movement according to the chosen blister configuration. It then moves towards the filling station, where the tablets or capsules will be placed. Sealing is then carried out thanks to the continuous action of rollers, which will allow a perfect sealing of the covering material on the formed blister. The sealing plates and rollers are temperature-controlled so that the products in the blisters are not overheated. Incomplete or defective blisters are rejected.
Technical details of the IMA TR 130
Useful forming surface 130 x 130 mm
Max. forming depth 12 mm
No. of blisters per forming stroke 1-3
Forming speed 10-80 cycles/min
Cutting speed 200 cycles/min
The latest blister formats used on this machine have the following dimensions: 35 x 91 mm, 63 x 91 mm.
It is possible to combine this blister machine with a used horizontal cartoning machine to create an automatic packaging line. If you need any advice, please do not hesitate to contact us, we would be happy to help you.
Please do not hesitate to contact us if you would like a quotation, more details about this machine or if you would like to arrange a visit for an inspection.