Today we are going to tell you about an unmissable opportunity for those who are looking for CNC lathes with bar loading. Some time ago we told you about the Graziano Gildemeister CTX 310 V6 Y with live tooling cnc lathe, now we find another extraordinary opportunity for those with a passion for these machines. This is a Hyundai kia Super Turn 21LMS bar feed CNC lathe in excellent condition and listed in our used machine tool catalogue.
Hyundai CNC lathe, a guarantee of great results
Before telling you about the features of the CNC lathe with bar feeder we want to tell you about the manufacturing company behind this machine. You can find several used Hyundai machines in our catalogue.
Established in South Korea, Hyundai is a multinational company created by Mr. Chung Ju-yung. In 1947, the company was founded as a construction company. Today, it operates in various sectors, including electronics, finance, railways, shipbuilding, cars, transport logistics and large-scale distribution. The best-known company is undoubtedly the Hyundai Motor Company, which is currently considered with Kia Motors as a single group.
Behind this company there is a history of winning bets, sacrifices and the will to never give up. In fact, Mr. Chung Ju-yung was only 25 years old when, after several failed attempts, he moved back to Seoul. At that time, everyday life in Korea was very difficult due to the conflict with Japan. After several vicissitudes, Chung managed to get a loan and bought a garage where he repaired cars.
Within three years the business began to grow, but the Japanese occupation forced the owner to turn the garage into a steel mill to produce war materials. With his company dissolved, Chung moved to Asan, determined to invest the money he earned to create a new company. In 1946, with the end of Japanese rule, a period of reconstruction began in Korea. It was during those years that the entrepreneur seized the opportunity and founded the Hyundai Civil Works Company.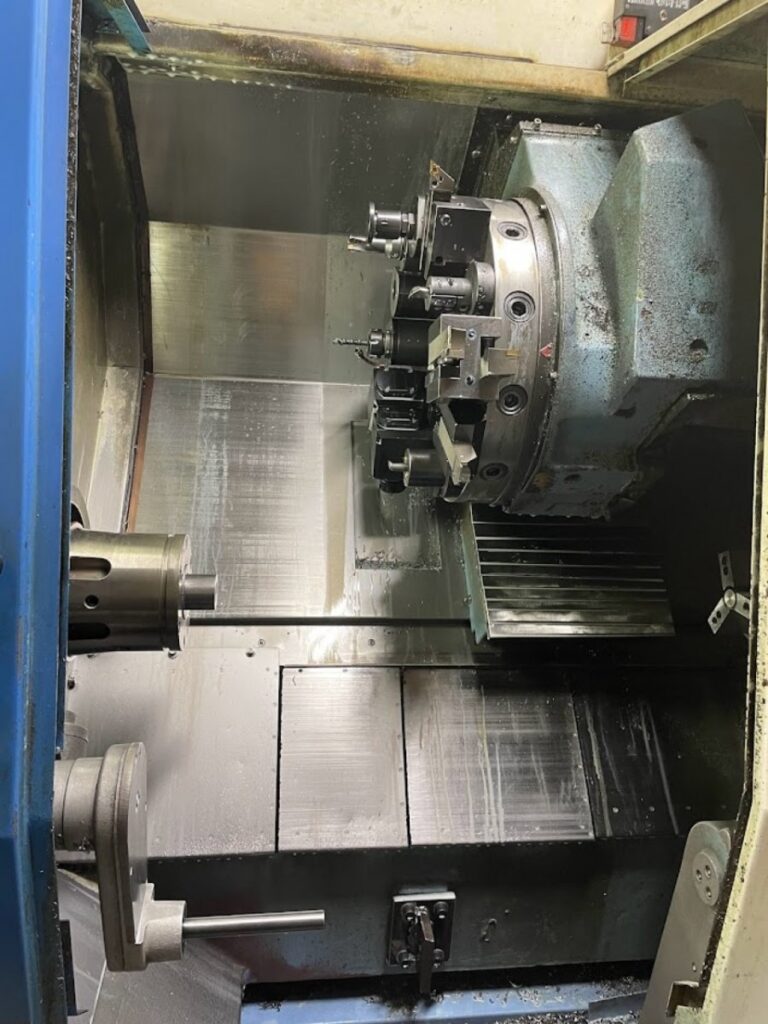 Hyundai kia Super Turn 21LMS CNC lathe with barfeeder: technical data
Category: CNC lathes with bar feeder
Manufacturer: Hyundai kia
Model: Super 21LMS
Year: 2004
Condition: Under Power
Condition: Excellent
Length: 2450 mm
Width: 1700 mm
Height: 1900 mm
Weight: 4300 kg
CNC: Fanuc
CNC version: 0i-TB
Turning length: 410 mm
Turning diameter: 350 mm
Bar working diameter: 65 mm
Spindle nose: ASA 6
Number of rpm: 4000
Spindle power: 11 kW
X axis stroke: 230 mm
Z-axis travel: 550 mm
Chip conveyor
Tool setter
Number of turrets: 1
Number of live tooling positions: 12
Number of c axes: 2
Bar feeder brand and model: Iemca Tal 65
Counter spindle
If you are interested and would like to see the lathe in person, please contact us by clicking the button below. We are always happy to provide a quick quote. Contact us immediately on (+39) 327 53 69 514 to speak, also on whatsapp, with Mr. Diego Sforza, our sales agent.