Today we are going to tell you about a unique opportunity for those looking for a CNC lathe. Some time ago we introduced you to a Hyundai kia Super Turn 21LMS CNC lathe, but we would also like to tell you about the performance of a CNC lathe with great capabilities. This is the Daewoo Puma 300C CNC lathe with fixed tools, which can be found in excellent condition in our used machinery catalogue.
CNC lathe for secondary turning, the expertise of Daewoo Puma
Before we tell you about our used CNC lathe with fixed tools, it is important to get to know the company behind this machine. We are talking about one of South Korea's largest industrial groups, involved in numerous sectors, from shipbuilding to electronics and construction. In our catalogue you can find numerous Daewoo and Doosan machines, a guarantee of excellent performance and quality.
The group was founded in 1967 by Mr. Kim Woo-Choong, later to be dissolved by the South Korean government in 1999. The activities of the different companies, however, continued independently and with new owners.
What makes Daewoo brand special and fascinating is the extraordinary story of its founder. Born in 1936, he was just a boy from Daegu who delivered newspapers, helping his family who, due to financial problems, depended entirely on him. Thanks to many sacrifices, Kim managed to study at Kyunggi High School and graduated in economics from Yonsei University in Seoul.
His first company, specialising in clothing and textiles, was immediately successful. He later opened Daewoo Industries with five other partners. Within a short time, the company became one of the largest industrial groups in the world. To this day, Daewoo and Doosan CNC lathes are still considered among the best on the market.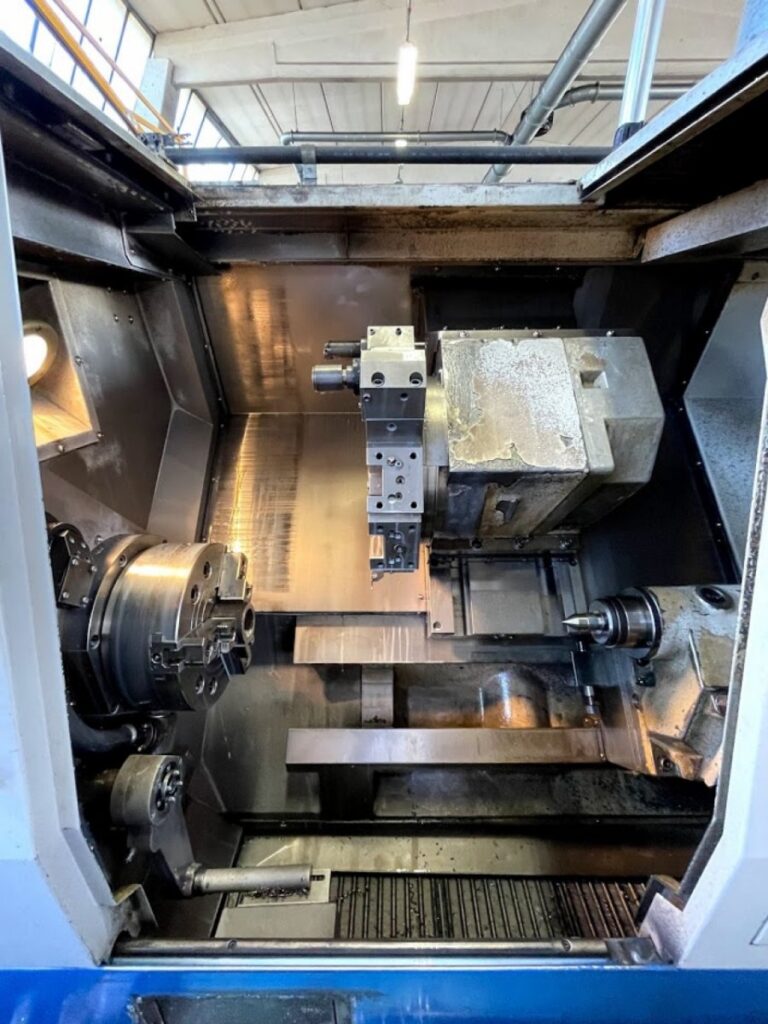 Daewoo Puma 300C CNC lathe: technical data sheet
Category: CNC Lathes with fixed tools
Brand: Daewoo
Model: Puma 300C
Year: 2000
Condition: Under Power
Condition: Excellent
Dimension
Length: 3630 mm
Width: 1934 mm
Height: 2065 mm
Weight: 5740 kg
Specific details
CNC: Fanuc
CNC version: 18i-T
Turning length: 630 mm
Turning diameter: 400 mm
Bar passage: 102 mm
Spindle nose: ASA 11
Spindle power: 26 kW
RPM: 2800
X axis stroke: 282 mm
Z-axis travel: 680 mm
Tailstock
Chip conveyor
Tool setter
Number of turrets: 1
Number of tool stations: 10
If you are interested and would like to see the cnc lathe in person, please contact us directly by clicking the button below. We are always happy to provide a quick quote. Contact us immediately on (+39) 327 53 69 514 to speak, also on whatsapp, with Mr. Diego Sforza, our sales agent.