Welcome back to our blog, in our machines of the month section. Today we are going to talk about a used CNC lathe Brand Biglia model B501 SM with Iemca bar feeder in mint condition that you can find in our used machine tool catalogue.
CNC lathe with bar loading, the Biglia innovation
Before telling you about this Biglia CNC lathe, it is essential to get to know the company that manufactures this extraordinary machine. Biglia is specialised in high-quality turning centres. This is precisely why you can find so many Biglia machines in our catalogue.
Founded in Incisa Scapaccino (Italy) in the province of Asti in 1958, Biglia is one of the leading manufacturers of lathes and CNC turning centres in Euope. Innovation and reliability are at the heart of the mission of this company, which has grown and consolidated over the years, producing over 17,000 machines and reaching as many as 15 countries worldwide.
Today, Biglia offers a wide range of lathes to meet the most diverse production needs, with high efficiency and extraordinary technology. Biglia products are all user-friendly with an offering based on high productivity, reliability, precision and ease of use.
Technical details of the Biglia B501 SM CNC lathe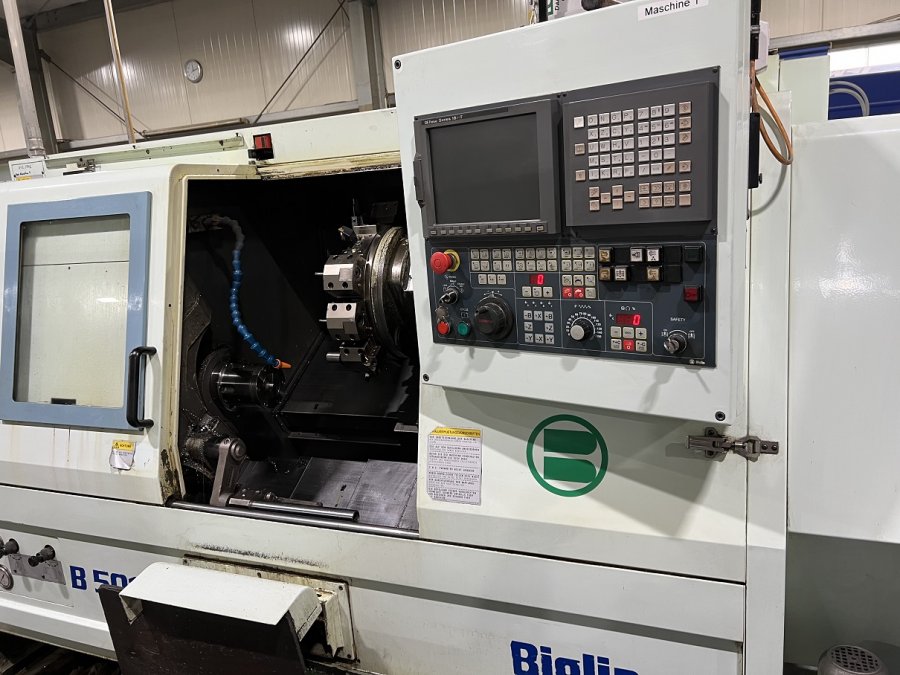 Dimension
Length: 4000 mm
Width: 1900 mm
Height: 1800 mm
Weight: 4600 kg
Specific details
CNC: Fanuc
CNC version: 18i-T
Y axis: No
Turning length: 500 mm
Turning diameter: 250 mm
Bar working diameter: 65 mm
Spindle nose: ASA 6
Chip conveyor
Tool setter
Subspindle
Number of turrets: 1
Number of live tooling positions: 12
Number of c axes: 2
Bar feeder model: Iemca Master 880 MP
If you are interested and would like to see this CNC lathe wit live tooling and bar feeder, please contact us in just a few seconds by clicking the button below. We are always happy to provide a quick and not binding quote. Contact us immediately on (+39) 327 53 69 514 to speak, also on WhatsApp, with Mr. Diego Sforza, our sales representative.