Good afternoon, we continue to offer you the most interesting new arrivals in our catalogue of used machine tools for sale. Today we are going to talk to you once again about a beautiful Biglia cnc lathe model B658 YS, after the two Biglia B445 YSM and Biglia B445 SM lathes we introduced you last week.
The Biglia B658 YS is a cnc lathe with live tooling, subspindle and Y-axis. The machine is designed for bar machining and it is supplied complete with two live tool holders and a SMW autoblock chuck with a diameter of 310 mm, which replaces the collet chuck shown in the photos and which is currently fitted to the machine.
The machine can be viewed still connected under power and under production by prior appointment. The machine will be available for immediate delivery from March 2021.
Basic details
Technical description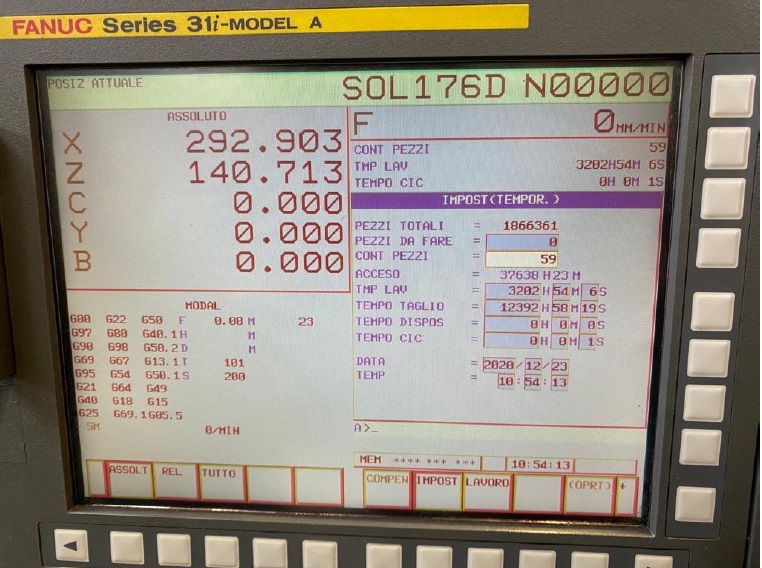 Main spindle
Maximum turning diameter 410 mm
Bar working diameter 80 mm
Spindle nose ASA 8″
Maximum RPM 3500
Electrospindle motor power 22Kw
Counter spindle
ASA 5″
Bar working diameter 55 mm
Maximum RPM 5000
Spindle motor power 18 Kw
Axis travels
Z axis stroke 670 mm
X axis stroke 255 mm
Y axis stroke 110 mm (+60 / -50)
B axis stroke 660 mm
Turret
Number of positions 12
Number of live tooling positions 12
Motor power of live tooling positions 5.5 Kw
Maximum live tooling revolutions 4000 Rpm
Optional equipment included
AUTOBLOCK chuck diameter 315 mm bore 95 mm for main spindle
AUTOBLOCK chuck diameter 210 mm bore 52 mm for counter spindle
SBS for tool stress control
Prearrangement for barfeeder
Manual Guide for simplified programming
Tool setter
Radial live tool holder
Axial live tool holder
If you are interested in coming to see the lathe or receive a quotation, do not hesitate to contact us by clicking on the button below or contact our sales representative Diego Sforza directly by telephone on (+39) 327 53 69 514.