The Russian vaccine Sputnik, developed by scientists at Moscow's Gamaleya Research Institute and announced by Putin on August 2020, has been packed into vials thanks to the machinery of an Italian company. The company in question coming from the Italian Packaging Valley is Marchesini Group. Marchesini is a company with a turnover of over 400 million. Its headquarter is in Pianoro in the Bologna area, but has several subsidiaries around the world.
The collaboration between Marchesini and Biocad, manufacturer of Sputnik
It all began in May 2019. The Italian company Marchesini delivered liquid filling machinery to the Russian biotechnology company, Biocad of St Petersburg. Today, this large company is producing the Sputnik V vaccine at an impressive rate of 200 bottles per minute.
Unlike other anti-Covid serums, the Russian one does not have to be dispensed in disposable syringes, but is placed in glass vials. The Bologna-based company, which generates 85% of its turnover from exports, supplied Biocad with the entire packaging line.
This is a great achievement for this company, which since 1974 has been a leading supplier of complete packaging lines and machinery for companies in the pharmaceutical and cosmetics sectors. This operation has been made possible thanks to the commitment and hard work of a solid and structured organisation which has 1200 employees, 14 production divisions, 7 acquired companies and a partner company.
Once again, the Marchesini Group has been able to combine Made in Italy entrepreneurship with its international vocation with commitment and passion.
How the bottles containing the Russian vaccine are made up
As mentioned earlier, Marchesini Group is mainly involved in the production of pharmaceutical packaging machinery and has contributed to the creation of the Sputnik vaccine by supplying the complete packaging line.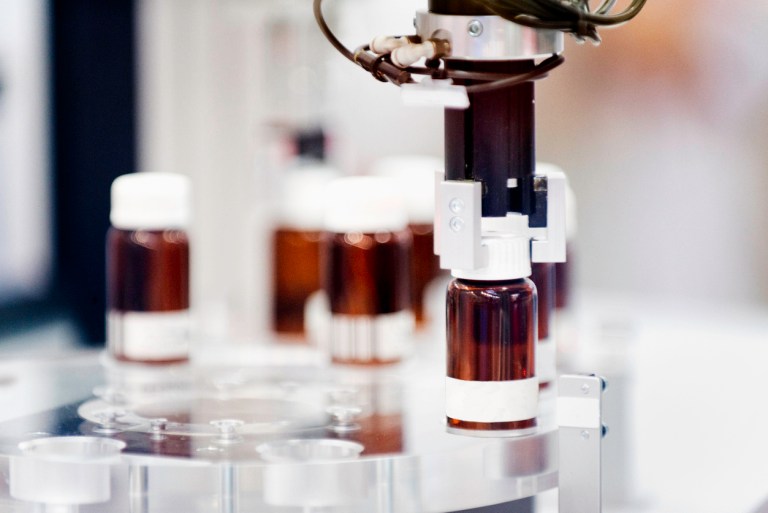 Primary packaging machines of this line are:
a vials sterilisation and depyrogenation tunnel;
a vials washing machine working with distilled water;
a filling machine which also performs the function of applying the rubber cap;
a alu capping machine which closes the vials by means of an aluminium capsule.
At any organisational level, it is clear that production must be extremely meticulous at every stage. For this reason, the whole packaging line equipped with controls for checking each individual vial.
For instance the provided filling and capping monoblock machine operates with an in-process control system, which enables precise and impeccable dosing. In other words, the weight of each vial is checked both before it is filled and when it is completely full.
Then, an inspection machine is used to carefully inspect the quality of the liquid inside each vial. Each vial is then labelled for identification and packed by the cartoners.
The case packers then prepare the final packages and place them on pallets to be shipped to the various distributors.