Here we are again with an article about a machine of the month. Today we want to illustrate you a beautiful used Okuma Macturn 30W CNC multitasking lathe. It's located in the Netherlands and has been manufactured in 2000. Do not hesitate to contact us to get more information, or keep on reading this article!
"Monozukuri"*, the slogan of Okuma
The company was founded by Okuma it self in Japan in 1898. The business started to manufacture and sell noodle-making machines. In 1904 the company began to manufacture and sell machine tools. Okuma became quickly the leader in Japan of machine tools manufacturing. The first lathes have been manufactured in 1966, few years after, in 1974, Okuma started manufacturing double-column machining centers.
In 1976, the company opened offices in America, Europe (UK, Germany, Italy) and after a few years in Latino America, Australia, Thailand and Shanghai.
Okuma will celebrate its 120th anniversary and the company offers today a wide range of very high quality and reliable machine tools, such as lathes, machining centers, grinding machines, and also CNC controls, FA products and servo motors.
* "Monozukuri" means the art of making things always better.
Technical details of this used Okuma Macturn CNC multitasking lathe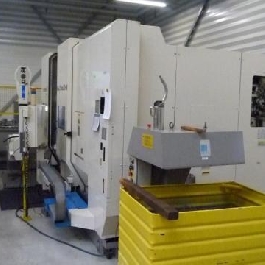 Swing over bed Ø550 mm
Control OSP-U 100L CNC
Swing over cross slide 500 mm
Distance between centres 1500 mm
Spindle bore 80 mm
DIMENSIONS
Length 5200 mm
Width 2500 mm
Height 2300 mm
Swing over bed : 550
Max. Machining Ø: 500
DBC turning length : 1.500
Spindle
Spindle bore : 80
Power kW : 22
Spindle speeds : 3.800
Torq NM : 412
Upper turret
X travel : 430
Z travel : 1.590
Y travel : 190 (+ 95 – 95)
C travel : 360.000
B travel : 0.001 Gr
Turret with 2 positions for mill & turn
ATC with 40 positions BT 40
Milling spindle
Milling spindle : 7 kW
Spindle speeds : 6.000 RPM
Tool shank : Bt 40
Torque : 50 NM
Sub spindle
Sub spindle Ø : 80
Power : 7.5 kW
Speeds : 6.000 RPM
Chuck Ø : 170
Lower turret
Lower turret : 8 Positions
Cutting tool shank : 25 x 25 mm
Chip conveyor Mayfran
OSP – U 100L CNC
High pressure coolant
Large tooling package
OKUMA Loading robot
Okuma feeding system
Machine sold