As we have already mentioned in previous articles about the processing of sheet metal, the traditional technique for cutting sheet metal is shearing. Shearing, as the name suggests, is performed by machines called shears. The most widely used shears can be classified into two different types: guillotine and circular blades. In both cases the cutting of the sheet metal is produced by the mechanical action of two blades whose stress exceeds the resistance determining the breaking of the material.
The Guillotine Shear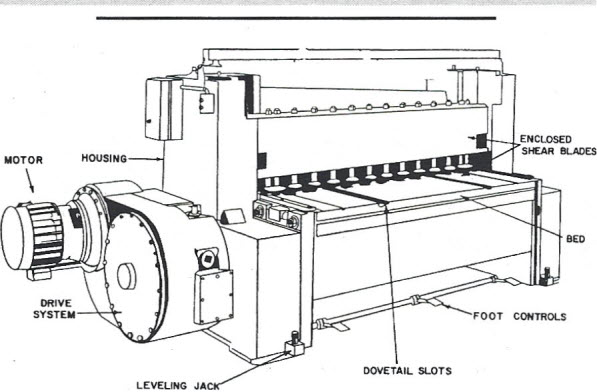 Guillotine shears are the most common and also the most requested on the used machinery market of Makinate.com. The guillotine shear is structurally composed by two blades, a lower fixed blade and an upper blade, movable by hydraulic pistons fed by a hydraulic unit (hydraulic compressor). All the shears are provided with a device called blank holder, this allows the clamping of the material during the cutting phase, and by adjustable guides on which the sheet slides.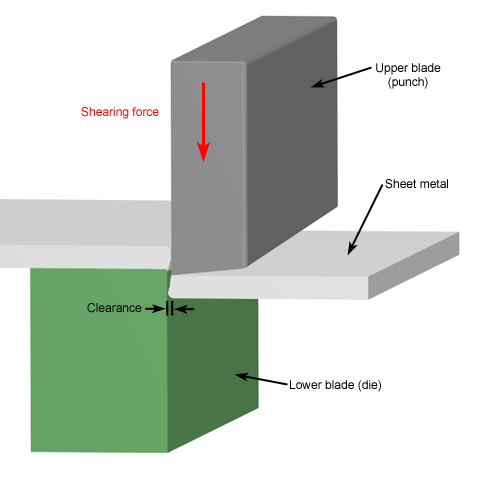 The guillotine shears can have very different characteristics, with blade length up to 6 m and cutting capacity up to 20-30 mm sheet thickness. Usually, especially in large shears, the upper blade is not perfectly straight but is slightly curved or tilted longitudinally. These measures are designed to reduce the cutting effort by exploiting the scissor effect.
Scissor effect
The scissor effect indicates a blanking that does not occur simultaneously along the entire cutting line, but works the sheet progressively, just like the scissors cutting a sheet of paper, thus avoiding excessive pressure.
If you are interested in buying used guillotine shears or others used sheet metal machines, do not hesitate to consult our online catalogue.
In addition, if you are interested in selling your used industrial machinery, you can contact us or publish for free your advertisement by clicking here: