Finding a used machine tool in excellent condition is not always easy. Today, however, we would like to point out a Fanuc Robodrill T21iE vertical machining centre that is in perfect working order and as good as new. A machine capable of guaranteeing high performance and great satisfaction, which complements other machine tools we have already mentioned and which can be found in our catalogue such as the Biglia B501 SM CNC lathe with barfeeder.
Fanuc Robodrill T21iE vertical machining centre, a must-have machine
Among the vertical machining centres, the Fanuc Robodrill T21iE is one of the best. We are talking about particularly versatile machines that over the years have been able to revolutionise and improve the mechanical production sector. Multifunctional and multi-purpose, they represent a direct evolution of traditional milling machines and are suitable for numerous machining operations. They are optimal for both actual production and re-machining.
This is why a machine of this type cannot be missing in sectors and companies where flexibility and precision are required. On the other hand, a machining centre allows the use of numerous tools, carrying out drilling, boring, thread milling and much more. There is therefore plenty of scope for change and versatility depending on the configuration, size of the working area, options and number of axes.
In particular, the Robodrill vertical machining centre can boast a high level of precision and quality, with favourable hourly costs, robustness, efficiency and unbeatable performance. Fanuc has always adhered to high quality standards to create state-of-the-art machine tools. The vertical machining centres designed by this company are a benchmark in their class for performance and precision. They are fully automatic and ideal for extended production runs, an excellent alternative to larger machines.
Features and performance of the Fanuc Robodrill T21iE vertical machining centre
Founded in 1956 by Dr. Inaba Seiuemon, Fanuc is a Japanese company that has always been ahead of its time. Today it is one of the leading manufacturers of compact machining centres, wire EDM machines, as well as electric injection moulding machines for plastic moulding and anthropomorphic robots. Let us therefore discover the features of this exceptional machining centre.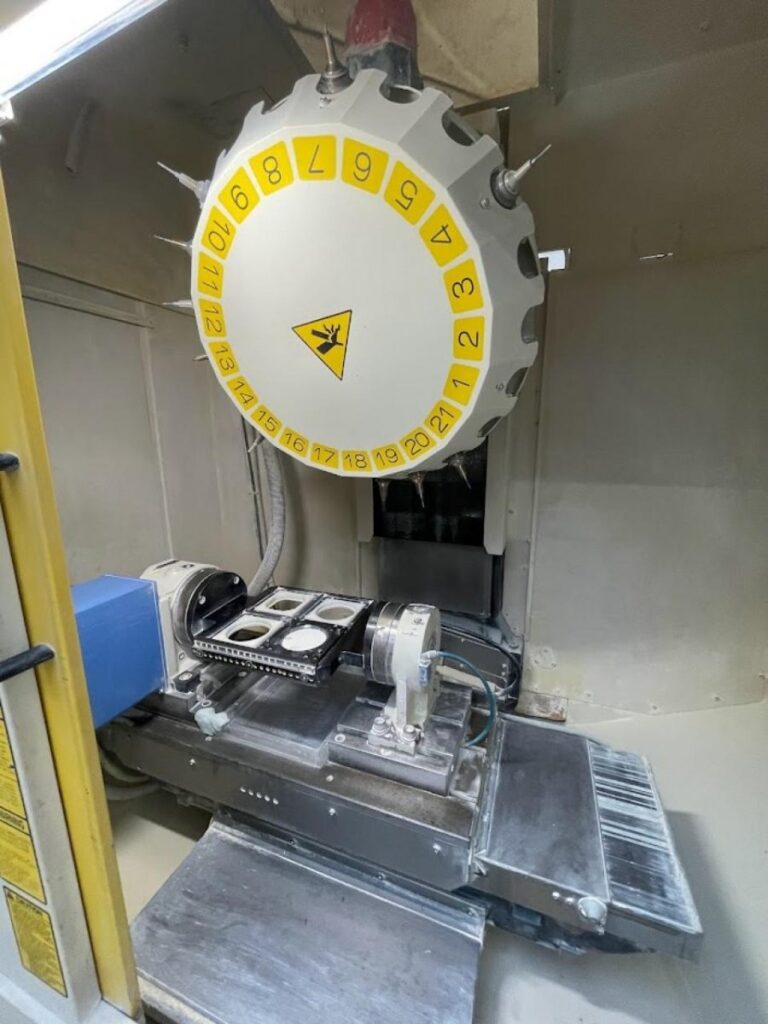 Category: Vertical machining centres
Brand: FANUC
Model: Robodrill T21iE
Year: 2007
CNC: Fanuc
CNC version: 31i
X axis stroke: 700 mm
Y-axis stroke 400 mm
Z-axis travel: 330 mm
Table dimensions: 850 mm x 410 mm
Table capacity: 250 kg
4-axis
Number of tools: 21
Spindle taper: BT 30
RPM: 24000 rpm
Through-spindle cooling:
Power: 5.5 kW
Can be inspected under power and it is in excellent condition
If you would like to inspect the Fanuc Robodrill T21iE vertical machining centre, you can do so simply by contacting us. Click the button below to request a free quote. Our sales agent, Diego Sforza, is always available, even on WhatsApp at (+39) 327 53 69 514 to answer any questions and requests.