The pandemic has pushed many Italian companies to adopt technologies that exploit artificial intelligence. This has not only allowed companies to continue their activities, but has also led to a marked increase in process efficiency. Digitisation is now an integral part of many organisations in Italy that see Industry 4.0 as a way to grow and break new ground. In fact, with the health emergency, we have seen how important it is to be able to expand or, in some cases, reinvent oneself so as not to have to stop.
Data from Google Cloud Global Research
According to Google Cloud's global research, conducted on more than 1,000 Senior Manufacturing Executives from seven countries (UK, US, Germany, Italy, France, Japan and South Korea), over 80% of organisations in Italy use AI tools in their daily operations.
This is a very satisfactory number, considering that Italy is at the top of the list, followed immediately by Germany (79%). The global average percentage, on the other hand, stands at 64% of the total.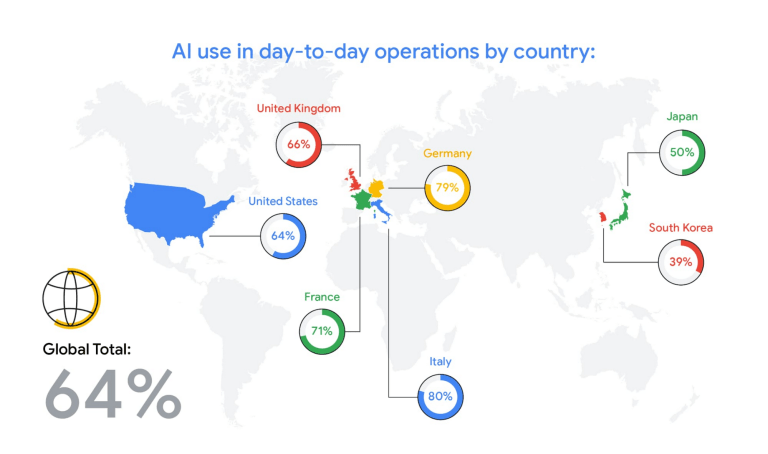 The increase in the use of artificial intelligence seems to be due to three main objectives for companies:
guaranteeing the continuity of their activities
to enhance management and production processes;
improving the conditions of employees.
During the Covid-19 period, the day-to-day adoption of artificial intelligence grew significantly in three sectors in particular: metal, mechanical and heavy machinery industries.
Going into detail, the main activities in which this technology is most widely used include:
quality control, with quality inspection in first place (39%), followed by product and/or production line controls (35%);
supply chain optimisation, with artificial intelligence being used to manage the supply chain (36%), risk (36%) and inventory (34%).
In logistics, then, artificial intelligence plays a very important role, not only at an industrial level, but also in e-commerce, both for packaging and for the organisation of deliveries and the management of after-sales service.
Artificial intelligence in Italy
According to the survey, Italy is at the top of the list of countries analysed for the adoption of the hybrid model in the manufacturing sector. In order to exploit the potential of artificial intelligence, it is essential that companies have adopted the cloud. Italy stands out for its ability to introduce these mechanisms into its business systems.
Technological innovation now seems to be an integral part of Italy's manufacturing sector, so much so that 88% of its organisations have adopted such a strategy.
In addition, 70% of Italian respondents said they believe the adoption of artificial intelligence can help them meet the needs of their customers. Consumers are increasingly looking for a quick and easy relationship with brands, as well as the most personalised assistance possible. New technologies allow them to respond to these needs.
If you don't keep up with Industry 4.0 trends, you risk losing valuable opportunities to improve your business and identify new market opportunities.