Today we will talk about the spindle, what it is and above all how it works!
After having briefly introduced the features of the machining center, today we have the pleasure to talk about one of its main components! The spindle is an important element, and we can find it not only in machining centers but also in all the other machine tools for chip removal.
Characteristics of the spindle on a machining center
As we have said, the spindle is the more important mechanical element in machining centers but also in lathes, milling machines, drilling machines and all the others machine tools dedicated to chip removal.
The spindle is a high performance element! The spindle works with high torque (high power) at low speed for milling operations such as planing. It also works with low torque (low power) and high speed when we need to drill with small diameter tools.
It is usually made of high strength steel in order to be mounted on thrust bearings and radials of extreme precision.
The spindle of a machining center is complete with jaws that allow to hold the cutting tool. This device is extremely important in order to change automatically the tool.
The electro-spindles are also extremely widespread, specifically those direct-coupled spindles with an electric motor that replaces the transmission gears. These electro- spindles are used in all the cases where the angular velocity is faster than 10,000 RPM.
The multiplicity of machining carried out with the machining centers requires a standard interface between tool and spindle in order to be able to use an automatic tool changer. This interface is represented by the tool holder.
Tool holder parts
You can distinguish two distinctive parts of this element.
The conical top part that will be connected to the spindle
The bottom part where will be fitted the tool.
The top part is standardized and available in two versions:
The HSK version is less massive, has more static rigidity and greater dynamic; with the HSK we can obtain greater axial and radial accuracy; we can have the guarantee of higher operator safety.
This type is therefore more oriented to machining that required high speed than the ISO type. (Rotation speeds of 20000-40000 RPM even further). In such cases, the very high centrifugal forces cause a radial expansion much higher than a high-mass toolholder.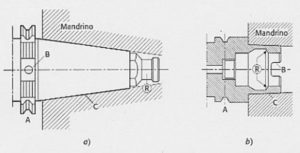 Do you want to receive more information about machine tools or about the industrial world? Please do not hesitate to contact us.
If you are interested in purchasing a used machine tool, you can easily browse our catalogue on Makinate.com.