Good morning, after we have been talking about laser cutting, oxycutting and plasma cutting techniques, today we are going to talk about another alternative cutting technique to the traditional method of shearing. Today's technique is waterjet cutting. This cutting technique is made by means of special machines that you can easily find on our catalogue of used sheet-metal machines.
Waterjet Cutting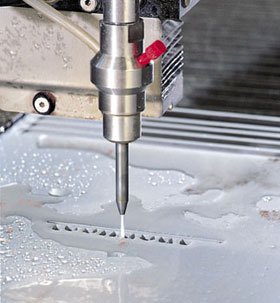 Waterjet cutting is obtained by projecting a very fine water jet (about 0.1 mm in diameter), onto the material to be cut, with pressures that reach 3000-4000 bar.
This technique is appreciated by users, above all for its easiness of programming, low costs and the possibility of working with almost all materials. It is possible, indeed, to work materials with thicknesses of less than 1 millimetre up to thicknesses of about 20 cm, with very good accuracies.
Waterjet cutting does not cause any physical alteration or mechanical deformation to the workpiece and ensures the cutting of materials of uneven thickness and composite or stratified materials.
The very small cutting furrow width allows to reduce at the minimum level the quantity of removed material.
The water jet allows cutting lines with very few burrs and also allows the cutting of pre-painted materials or coated with protective film.
With the addition of abrasive substances mixed with water, it is also possible to cut harder or thicker materials more quickly.
If you are interested in buying a water jet system do not hesitate to have a look at the offers in our catalogue of used water jet cutting machines.
If you wish to sell your used machine you can contact us or publish your advertisement in our catalogue for free.