The purchase of a used machine is very often dictated by the outcome of a compromise between 3 different and important factors: its degree of wear, economic convenience and reduced delivery times. In short, when you decide to buy a used machine, you are considering buying a machine with more or less evident signs of its previous use, but on the other hand you will obtain very short delivery times and a greater economic convenience compared to the purchase of a new machine.
The machine we are going to talk about today goes beyond this compromise and represents an opportunity which should not be missed. For all those companies working in the high precision and quality milling sector and for all lovers of the DMG brand, the machining centre we are going to talk about represents a rather unique opportunity, as it is a machine that counts only 230 working hours, its condition is comparable to the new one but at a very different price and not least it is immediately available for delivery. Today we talk about a used DMG vertical machining centre from the ecoMill V series model 600.
A few words about DMG's ecoMill V series machining centers
The ecoMill V machining centres belong to the third generation of the famous ecoMill series. The series includes 3 models that differ in the length of the asse stroke and we have the 600, 800 and 1100 models respectively. The main features of the ecoMill V series lie essentially in the design and the selling price. The machining centres in this series are in fact in the most economical range of the DMG manufacturer's models, while still maintaining very high performance. The design is characterized by a considerable improvement in ergonomics compared to previous models, making the machines even more aesthetically pleasing. Last but not least, the 19-inch DMG SlimLine control mounted on these machining centers is equipped with 3D technology and represents a flagship in the CNC sector.
Used vertical machining center DMG MORI ecoMill 600V
The machine is from 2016 and has only 230 hours of work.
The machine is equipped with 1 hydraulic vice OML – MG type 150 x 250 and 7 tool holders.
It is immediately available and it is possible to test it connected under power and in fully working condition.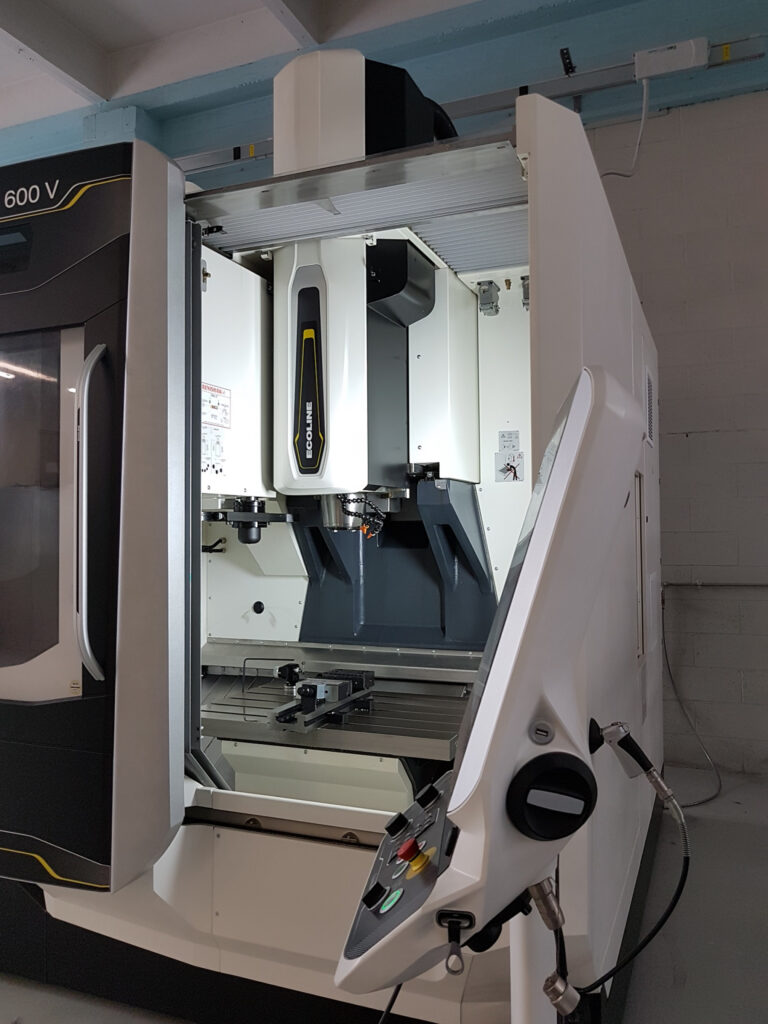 Main technical features
CNC Siemens Sinumerik 840 D slim line
Table dimensions 900mm x 560mm
X axis stroke 600mm
Y axis stroke 560mm
Z axis stroke 510mm
Spindle Cone BT 40
Spindle speed 20-12000 rpm
Spindle motor 13/9kW (40/100%ED)
Rapid feed speed 30m/min
Tool changer magazine capacity 30 tools
Weight 5000Kg
If you wish to receive an offer or arrange a visit to see the machining center please feel free to contact us.