Good afternoon, today we would like to present to you a nice bargain from the pharmaceutical sector. It is a Sejong MRC 30 tablet press, year 2000, immediately available. Discover with us this machine, or have a look at our catalogue of used packaging and processing machines.
Technical details of the Sejong MRC 30
We have already introduced you to another machine from the Korean manufacturer Sejong before, this was a Sejong F125 capsule filling machine. Sejong specialises in the manufacture of capsule fillers, tablet presses and coating machines. Today we are presenting a tablet press that was in production until a few days ago. The machine is available immediately.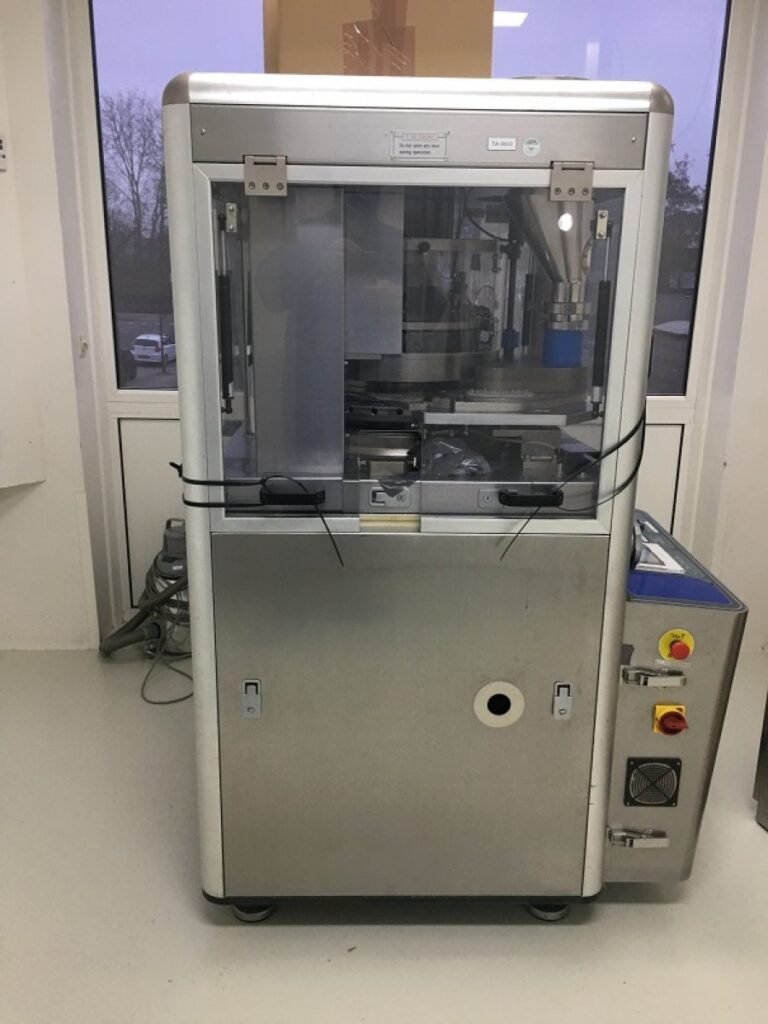 Year: 2000
Number of tablets: 45000 – 135000 /h
Number of punches: 30
Maximum compression: 100 Kn
Max. tablet diameter: 25 mm
Max. tablet thickness: 11
EURO D Tooling
Filling depth (available in 3 ranges) = 8.5 – 14 / 12.5 – 18 / 16.5 -22 mm
Machine dimensions : 1215 mm x 930 mm x 1980 mm.
If you have any questions about this machine, or if you would like to come and see it, please contact our packaging manager Ms Héloïse Verona immediately on the following number: 00386 30 342 560 or 0039 02 80 888 015. You can also contact us by clicking on the button below.
What are tablet presses?
The purpose of tablet presses is to compact or compress powders into a uniform shape, which can be round or oblong, and a uniform weight in order to obtain tablets of the desired thickness.
Compressors can be manual or automatic and can reach very high speeds, depending on the desired production. These machines are used not only in the pharmaceutical and nutraceutical sectors, but also in the cosmetics and chemical sectors for cleaning products, for example.
If you are looking for a tablet press, whether rotary or alternative, high or medium speed, please click here to see all our used tablet presses. We offer a wide range of used tablet presses of the best brands such as Kilian, Manesty, Korsch, Courtoy, Fette, IMA, Frogerais, Ronchi and many more.