Good morning, today we are back to present you a beautiful machine for pharmaceutical packaging. We would like to present you a blister machine from the Italian giant Marchesini, model MB 422, from the year 2015. As you can appreciate from the photos, the machine is in excellent condition and is in like-new condition, has only 400 working hours and is available for immediate delivery. Discover the details by clicking on the data sheet and contact us to get a quote or better to arrange a visit to come and see it.
Blister packaging
A few days ago, we told you about a used Sejong MRC 30 tablet press and explained a little about how this machine works. Once the tablets have been made, they can be packed in blisters or in glass or plastic bottles. To pack the tablets in bottles you need a counting machine, to pack them in blisters you need a blister machine.
Blister packs are mostly used in the pharmaceutical industry, but can also be found in cosmetics, nutraceuticals, food, confectionery or other totally different industries, for packaging various objects.
It is necessary to remember the importance of blister integrity in the pharmaceutical sector. The blister machine used to package medicines in blister form has to guarantee a number of data: the integrity of the blister (there must not be no micro-holes and the blister must be intact), the correct number of tablets in the blister (usually checked by a camera system), the presence of the lot number on the blister for traceability and the presence of the expiration date.
While the blister machine plays a key role, the quality of the materials used has a major impact on the quality of the final blister. It is therefore important to use materials such as PVC, PVDC, Aluminium, Aclar, paper or other high-quality materials to allow the product to be opened quickly and easily by the end user.
Technical details of the Marchesini MB 422
Let's discover together the technical details of this machine.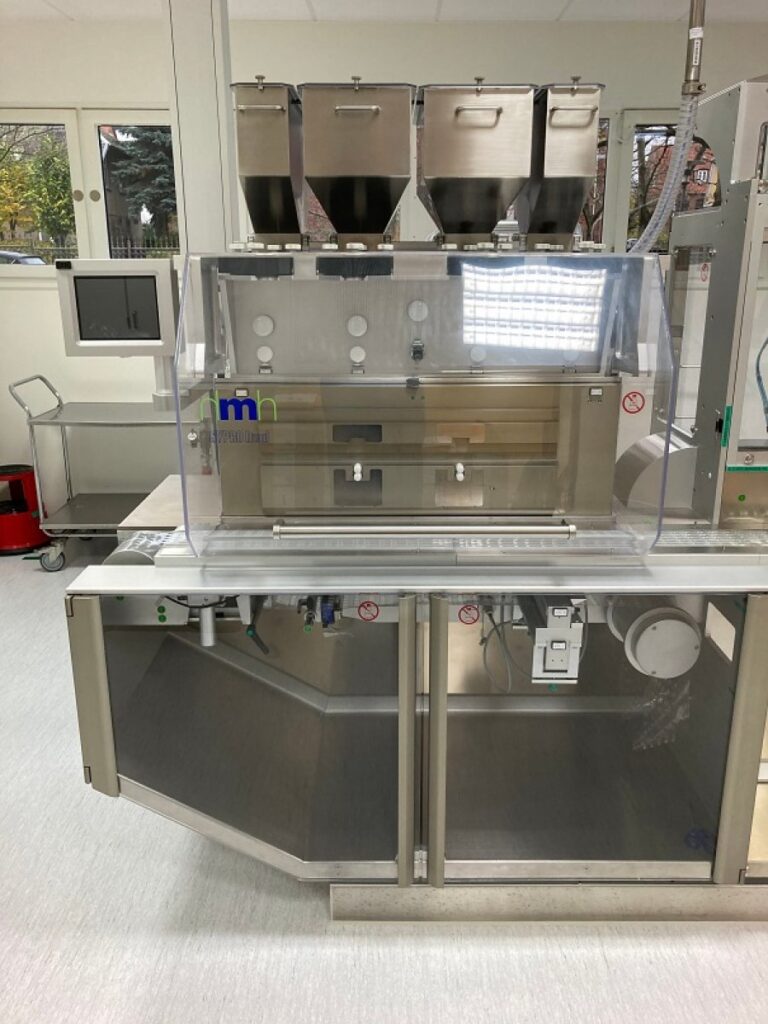 Year: 2015
Working hours: 400
Machine designed to process PVC-PVDC/ALU, PVC-PE-PVDC/ALU, ACLAR/ALU and ALU/ALU
Blister dimensions min. 30 – 70 mm (WxL), max. 86 x 140 mm (WxL)
Pitch from 79 to 156 mm
Blister/forming depth from 3 to 12 mm
Automatic product feeding with universal brush system
4 product hoppers with a capacity of 2×20 litres and 2×40 litres allowing four types of product to be fed simultaneously (e.g. for clinical trials)
SEA Vision Blister Vision Harlequin coloured camera product inspection system
Siemens SIMATIC S7-300 with HMI IPC677C
Exit of blisters either via a conveyor for manual collection or transfer to a cartoner (not included).
Are you interested in this machine? Please do not hesitate to contact our packaging manager Ms Héloïse Verona on the following number: 00386 30 342 560 or 0039 02 80 888 015 to obtain more details about this machine, to get a quote or to arrange a visit to see it. You can also contact us by clicking on the button below.