Those looking for a travelling column machining centre in excellent condition can rely on this DECKEL MAHO DMF260/7. A second-hand machine capable of exceptional performance, which can be found in the catalogue alongside other unmissable deals that we present to you weekly on our blog.
Travelling column machining centre: the quality and performance of the DECKEL MAHO DMF260/7
Travelling column machining centres are essential machines for efficiently machining medium to large workpieces. Unlike the much more classic vertical machining centres, in this case the work table is fixed, while the column on which the head where the milling tool is located moves. This innovation gives the DECKEL MAHO DMF260/7 travelling column machining centre numerous advantages.
Firstly, the fixed table is able to support heavy weights, an essential quality for machining. In addition, the column is able to achieve considerable positioning speeds compared to classic vertical machining centres, because it does not have to support the weight of the workpiece. These characteristics make the machine multifunctional and efficient, but above all essential for fast and effective work.
Technical specifications of this DECKEL MAHO DMF260/7
This used travelling column machining centre is a real deal. We are in fact dealing with an essential machine tool, manufactured by a leading company. DMG MORI AKTIENGESELLSCHAFT is one of the largest manufacturers of CNC machine tools, lathes and milling machines. A group of the highest calibre with 21 production sites around the world.
It was on 1 October 1870 when blacksmith Friedrich Gildemeister established the Werkzeugmaschinenfabrik (i.e. machine tool factory) Gildemeister & Comp in Germany. Since then the company has undergone many changes, growing and expanding internationally, but has always maintained the highest quality standards, which we can also see in the DECKEL MAHO DMF260/7 travelling column machining centre.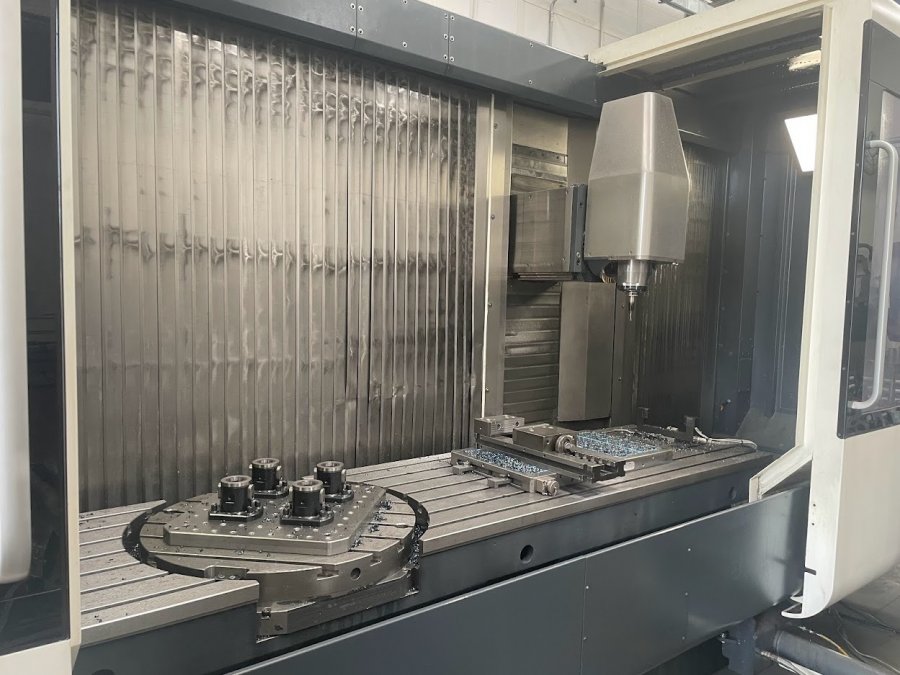 CNC: Heidenhain
CNC version: TNC 530
X axis: 2600 mm
Y axis: 700 mm
Z axis: 700 mm
Table – Pallet dimensions : 2900 x 700 mm x mm
Max load on table: 500 kg
Indexing Fixture – Dividing head – 4 axis: Yes
Pallet/table rotation in continuous : Yes
Index degrees: 100 °
Number of controlled axes: 5
Number of tools: 60
Spindle taper toolholders: 40 BT / SK / ISO / HSK
Spindle speed rotation: 18000 rpm
Through spindle coolant
Power: 35 kW
Chip conveyor
Condition: Under Power
Condition: Good
Length: 6335 mm
Width: 3420 mm
Height: 2693 mm
Weight: 14500 kg
We are always available to show you our used machine tools. If you would like to discover and take a closer look at the DECKEL MAHO DMF260/7 travelling column machining centre, please contact us. To request a free quote click the button below. Diego Sforza, our sales manager, will provide you with all the information you need and is always available, even on WhatsApp at (+39) 327 53 69 514.