Back on our blog "machine of the month" section. Today we are pleased to show you an excellent Biglia B446 T3Y2 used CNC lathe for sale. Featured in our used machinery catalogue, it is in excellent condition and it represents a real good deal.
CNC lathe with bar feeder, the excellence of Biglia
Behind the unique performance of this CNC lathe there is a manufacturer of the highest calibre. We are talking about Biglia, a company that has been creating high quality turning centres for many years and has numerous machines in our catalogue.
Considered to be among the leading manufacturers of CNC turning centres in Italy, Biglia was founded in the province of Asti, Incisa Scapaccino, in 1958. Since its foundation, the company has never stopped growing, experimenting and focusing on innovation, creating unique machinery. Over time, the company has chosen to use the skills of its technicians to design high-performance machinery, producing more than 17 thousand machines, sold over 15 countries worldwide.
Latest technology, efficiency and diverse production requirements are the qualities that characterise Biglia machinery. The Biglia B446 T3Y2 CNC lathe has all the qualities of this company's machinery, offering maximum precision, ease of use and very high productivity.
An indispensable machine
The cnc lathe with barfeeder is an indispensable and essential machine for series turning operations. The perfect tool for the production of large batches thanks to the presence of a bar feeder that allows the machine to be continuously fed automatically.
Solid, indestructible and robust, this lathe with barfeeder is rigid and hard-wearing with a cast iron structure that provides maximum stability during machining operations, without losing any of its turning precision.
Technical details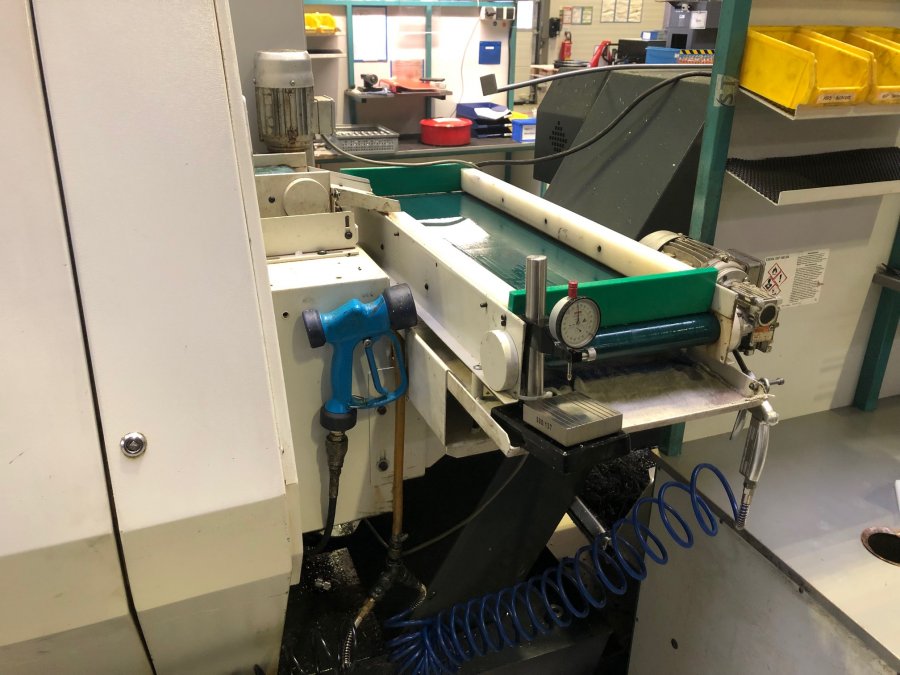 Brand: Biglia
Model: B446 T3Y2
Year: 2014
CNC: Fanuc
CNC version: 31i-Model B
Turning length: 230 mm
Turning diameter: 200 mm
Bar working diameter: 52 mm
Spindle nose: ASA 5
Number of rpm: 5000
Spindle power: 15 kW
X axis stroke: 170 mm
Z-axis stroke: 230 mm
Y-axis travel: 90 mm
Chip conveyor
Number of turrets: 3
Number of live tooling positions on turrets: 36
Number of y-axes: 2
Number of c axes: 2
Bar feederer brand and model: Cuchi Giovanni DB-EVO 70
Sub-spindle
If you would like more information or to inspect the Biglia B446 T3Y2 CNC lathe, simply click the button below. We are always at your disposal for clarification and to provide a quick quote. Contact us now on (+39) 327 53 69 514 or on WhatsApp to speak to our sales representative Mr. Diego Sforza.