Finding a used horizontal machining centre in good condition is not always easy, but among the many offers we highlight an excellent used Mazak HCN 5000 horizontal machining centre. An advantageous opportunity for those who need to exploit the performance of this exceptional machine.
Horizontal machining centre: the guarantee of Mazak HCN 5000, an essential machine
For series production of medium, small or large workpieces, horizontal machining centres are a guarantee. We are talking about machines that have the spindle in a horizontal position (hence the name), combined with at least two pallets to allow the tool to work without downtime. We also find four axes to allow the tool to machine and reach all four side faces of the workpiece. Depending on the rotation of the table – continuously controlled or indexed by degrees – we then have greater or lesser functionality in positioning the workpiece in relation to the spindle.
Based on Mazak's long-standing experience and technology, the machine offers advanced functionality and fast production results, as well as more efficient and high-performance use of the system. A winning choice for all manufacturers who want to improve performance and pursue the concept of the industry of the future, mixing connectivity, productivity, cost reduction and downtime.
Technical specifications of the Mazak HCN 5000
Choosing a used Mazak HCN 5000 horizontal machining centre means focusing on quality, innovation and performance. In fact, this machine is the result of the experience of a company that is a leader in the production of technological solutions and multitasking machining. Founded in 1919, Yamazaki Mazak has contributed to the development of the machine tool sector since its creation, becoming one of the world's benchmarks in the industry.
Yamazaki Mazak produces CNC turning centres, advanced multi-tasking machine tools, machining centres and laser cutting machines, as well as automation solutions that support global production, with the aim of always providing maximum productivity and versatility. The aim is to bring about progress and improvement in manufacturing, as is the case with the Mazak HCN 5000.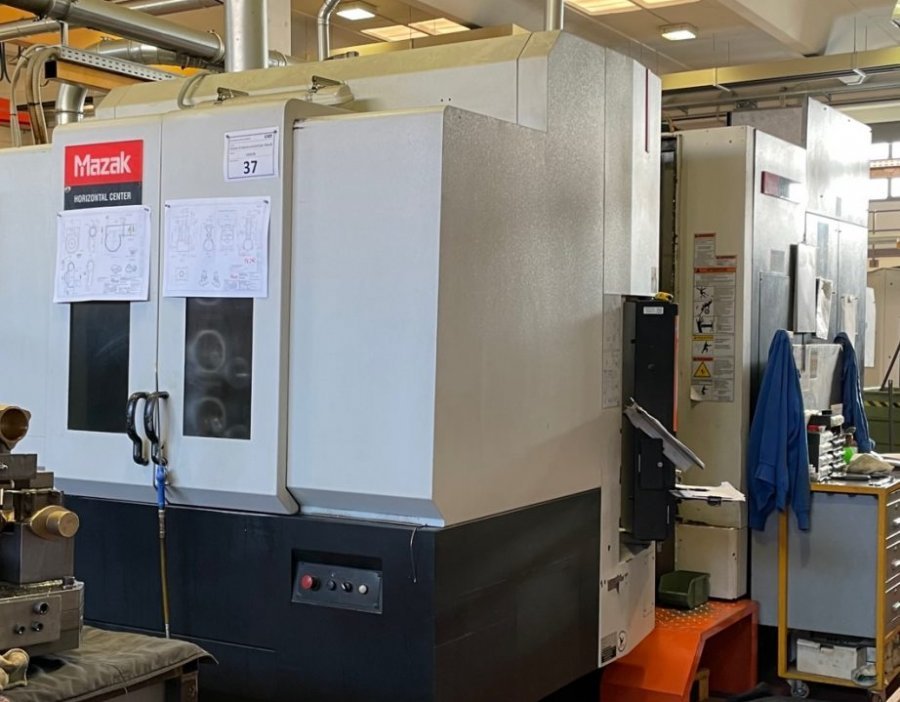 Year 2006
CNC: Mazak
CNC version: Mazatrol Fusion 640 M
X-axis stroke: 730 mm
Y-axis travel: 730 mm
Z-axis travel: 740 mm
Number of pallets: 2
Table/pallet dimensions: 500 x 500 mm x mm
Table capacity: 700 kg
Continuous table rotation control
Degrees of rotation of the table: 0.001 °
Number of controlled axes: 4
Number of tools: 80
Spindle taper: 40 BT / SK / ISO / HSK
RPM: 18000 rpm
Through-spindle coolant
Power: 30 kW
Chip conveyor
Dimensions
Length: 4690 mm
Width: 2330 mm
Height: 2814 mm
Weight: 11000 kg
As always, we are at your complete disposal to show you our used machines live. If you would like to find out more about the used Mazak HCN 5000 horizontal centre, please do not hesitate to contact us. Our sales manager, Mr. Diego Sforza, will provide you with all the information you need, also on WhatsApp at (+39) 327 53 69 514. While to request a free quote you can simply click the button below.